Postpone 4GCMEA for 2 years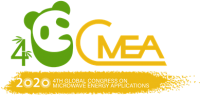 【4GCMEA will be postponed by Aug.2022. JEMEA received official announcement.
To those who have submitted abstract, or already booked the accomodation at CYNN hotels, be sure to see announcement. we will update this page as soon as confirmation of 4GCMEA homepage's update.】(4/24/2020)
【4GCMEA postponement announcement 4/23/2020】
JEMEA reciived latest information about "The 4th Global Congress on Microwave Energy Applications(4GCMEA)". Be sure to check below.
*************
GCMEA is the international Congress about Microwave once every four years, same year of the Olympics. .
1st GCMEA is held by JEMEA at Ohtsu, Japan. 4GCMEA will be held neiboring contry, China. Please schedule your presentation, attendance.
【Schedule】August 17-20, 2020, Chengdu, China 
Important Date
Abstract submission Deadline: Sun, March 15,2020
Acceptance Notification : Sun, May 10,2020
Full Paper Submission Deadline: (Please read ★)
Registration Deadline : Wed, July 15,2020
We will update about "Paper Submission due date"  later. (12/16/2019)
JEMEA will update this article whenever we get new information, and send E-mail to JEMEA members.
For about GCMEA, please visit below.
★【Q & A 】
Q1: Please inform us "Full Paper Submission Deadline" for accepted presenter.
A1: This congress only demands the attendees to submit the abstract. We will recommend the good ones to write the full paper and forward them to the special issue of this congress. This information will be indicated in the 3rd call for paper.
Q2: And for about Exhibition opportunity, do you have deadline ?
A2: No, we do not have deadline for the exhibition. We can accept the requirement of joining the exhibition before the congress opening or before all the banners are occupied.
Japan Society of Electromagnetic Wave Energy Applications
***********************************
JEMEA Office
Mail to: office@jemea.org
Tel&Fax:03(3414)4554
https://www.jemea.org/
*************************************
[ver.20200424