Short Courses
Poster
admin
Registered 9 Aug 2015 22:36 (6659 hits)
11/19-20 The 9th JEMEA Symposium click here

[Date]
Nov.18 (Wed),2015 10:00 to 17:00(Tentative)

[Venue]
17th Floor, Bldg.No2,Sophia University
7-1, Kioi-cho, Chiyoda-ku, Tokyo 102-8554
http://www.sophia.ac.jp/eng/e_top/info/access
Nearest station: Yotsuya (JR Chuo-line, Subway(Marunouchi-line, Nanboku-line)
[Host]
Japan Society of Electromagnetic Wave Energy Applications

[Co-host]
Sophia University, Sophian Symposium

[Technical Co-sponsorship]
Coming soon

[Topics]
The lectures by international specialists.
Topic: Microwave chemistry, trend of Microwave heating industries in Euro-American,Global trend of microwave semiconductor oscillator, microwave chemical devices and so on.

[Language]English
Simultaneous interpretation to Japanese will be provided.

[Lecturer]Program details: To be announced later.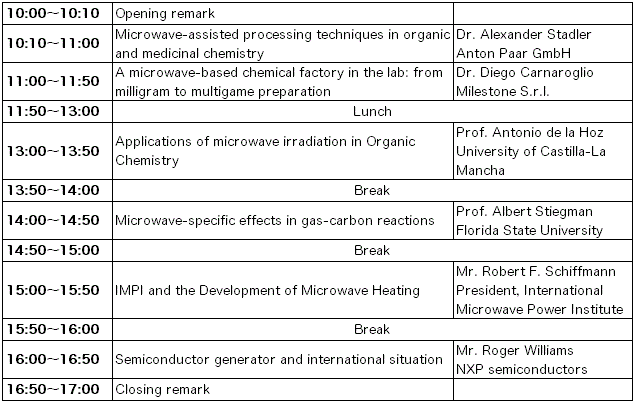 [Circular]
http://www.jemea.org/sympo2015/sympo2015_circular_eng.pdf

[Registration]
https://gt102.secure.ne.jp/~gt102009/sympo2015/sympo2015_personal.html
(In common with Sympo2015)

[Registration Fee]
"Early registration (Deadline: Oct.16(Fri))" -> Oct.30(Fri)(Extended)
Deadline of payment through a bank transfer: Oct.30(Fri) -> Nov.13 (Fri)(Extended)
After registration, reply mail with bank account number will be sent.




"Registration after Oct.17 (Sat)." -> Oct.30(Fri)(Extended)




[Organizing Committee Member]Alphabetical order
Chair: Satoshi Horikoshi (Sophia University)
Mamiko Asano (Osaka University of Pharmaceutical Sciences)
Jun Fukushima (Tohoku-University)
Kyoichiro Kasimura (Chubu-University)
Tomohiko Mitani (Kyoto University)
Dai Mochizuki (Sinshu-Univesity)
Masateru Nisioka (AIST)
Shutaro Tsubaki (Tokyo Institute of Technology)
Takero Yoshimura (Tokyo Institute of Technology)
Secretariat:Yoko Sato (JEMEA office)

[Contact]
Sympo2015 executive committee
E-mail:sympo2015@jemea.org (Secretariat)

[Access]